What Students are Saying About ISO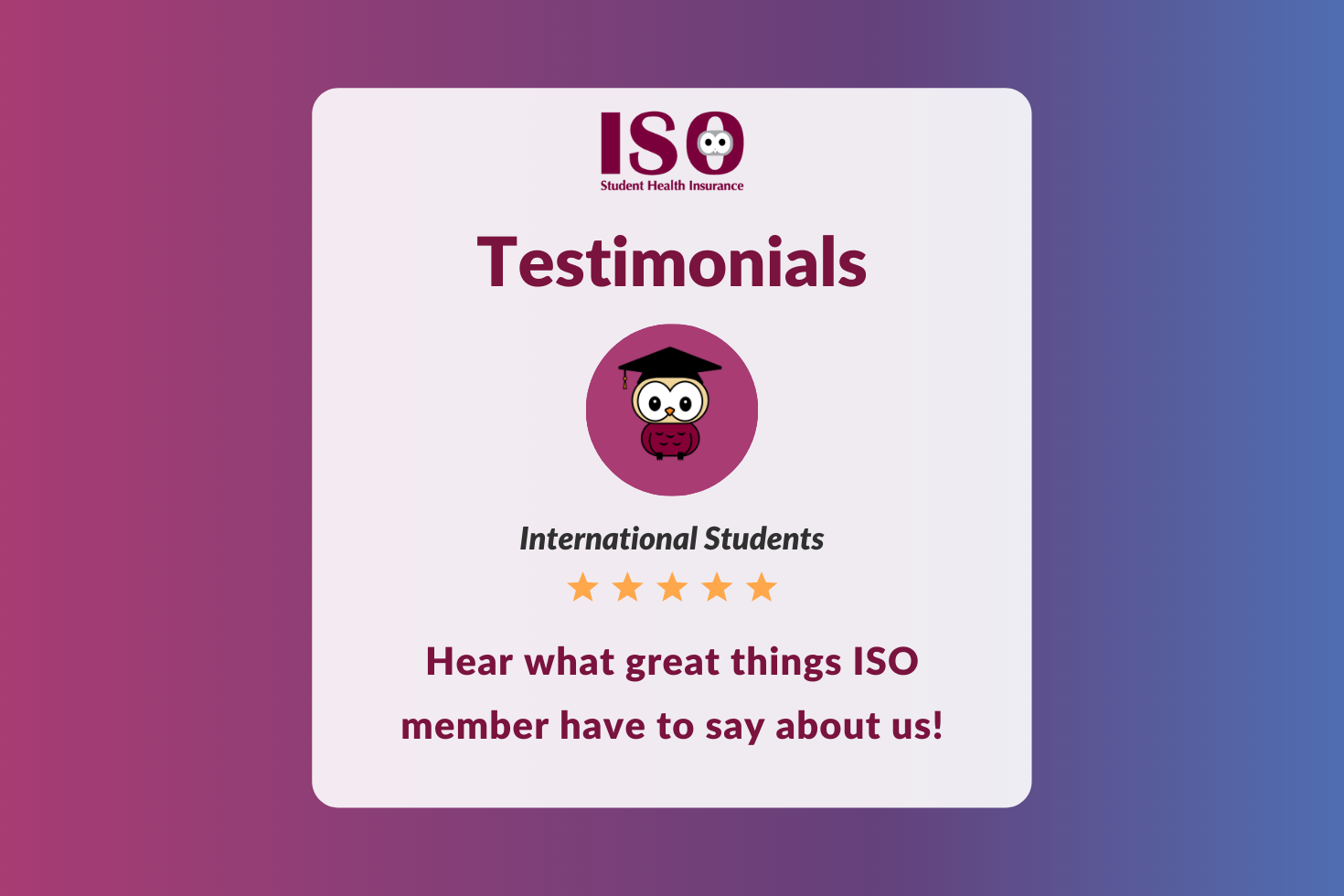 Stacy Phu | Apr 27, 2022 Insurance
Since 1958, ISO strives to be the best insurance manager and broker for international students. We do this by providing affordable health insurance to over 150,000 students across the U.S, along with the highest level of customer service. We are a company by international students, for international students.
With 4.9 stars on Trustpilot, we pride ourselves on putting our members' needs first. We are here to help you through our easy enrollment process and any questions along the way. Once you enroll, a confirmation email will be sent to you instantly including your insurance information and waiver details. If you ever need assistance, contact us and we will help you within that day. On top of that, we provide resources and services for international students through our blog and social media platforms.
Below, we've gathered testimonials from our members here at ISO. Hear what students have to say about us:
Responsive Customer Care
"Super fast, precise , and helpful answer to all of my questions. Great service!"

- Mathias, UCLA
"ISO, it's worthy. I am so fortunate to be a member of ISO for my first Insurance company chosen by myself. And they always give me answers in time when I have any questions. Most importantly, it is easy to understand for me because they can answer any questions in my native language. That's cool. It's sure for me to recommend ISO to my family and friend. It's worthy."

- Pan, Temple University
"Great customer service - prompt response and all inquiries are answered. Covered for Covid-19 related medical issues too. As my son is going to his university in USA 2 weeks earlier before commencement of his semester, I purchased an additional 1 month coverage for him. This is due to his ISO coverage purchased through his university will only commence on the first day of his semester.

- LP, Parent
"ISO is the BEST EVER. ISO is perfect!! It's the best ever!!! I highly recommend it to all IMGs and medical students. I used it 3 times before and I'm willing to do so again. The customer service is very fast and effective. I have to travel and do health insurance so fast, they created my insurance in 1 min!!! A million million thanks to ISO company!!! Really.. I am so grateful to you, ISO team!"

- Marah, Penn State
"They respond to their WhatsApp texts very promptly and are very patient with answering all sort[s] of queries. Great service so far!"

- Nahlan, Student
Helpful Support
"My experience is super awesome. I was supposed to start my training in Mayo clinic this month but due to visa delay I'm going to start next month. I contacted ISO customer care to explain my situation and they immediately changed my insurance starting date and send me all the necessary documents. I just love how everything was solved by couple emails in few minutes. I never dealt with a company that care about their customers like ISO does. Thank you so much ♥️"

- Nina, Mayo Clinic
"My classes at UCLA were deferred and i needed to update the start date on my insurance id. ISOA was very helpful, quick and friendly. Took only few minutes to send me the new updated card. Would definitely recommend them to others."

- Mark, UCLA
"I had a problem to buy new plan, but the customer service addressed this problem immediately."

- Jonghoon, University of Texas MD Anderson Cancer Center
"Very helpful and patient towards clients. I called to ask a question about coverage, and the lady helped me not only on the question I asked but also found a mismatch of information on my file. What's impressive is that she called me back later to make sure I have the right information on the file. This extra mile she took is so helpful for that I won't have any troubles when I really need to use the insurance in the future. Good insurance company."

- Ruby, UPenn
"The best cooperation ever! I had to update my coverage date a few times and Adriana handled the situation so well."

- Negar, Mayo Clinic College of Medicine
Affordable Plans
"THE insurance plan any undergrad should have in the US! I've been using ISO for 4 years of my undergrad - THE best plan for any international student studying in the US. Instead of paying $2,000+ insurance plan that is often offered at your school, you could receive ALL the benefits PLUS incredible customer services/ ease in reimbursement claiming process from ISO. SO, so grateful to have found about ISO through my friend when I first came to college here, the insurance plan had saved me tons of useless money while covering me with extra, extra benefits you can never find elsewhere. But I graduated from college and now I'm on OPT, the insurance plan for students on OPT cannot be compared to the undergrad plan, as it's a bit more expensive, personally. I think it's because, on OPT, we undergrads don't have access to our school's health center so local urgent care charges more. But overall, so glad I have been using ISO during my 4 years of college - would definitely recommend to all my friends who are coming to the States!"

- Ngoc, Student
"I like their policy. I mistakenly chose the wrong plan, but the customer care service was very fast and cooperative that they helped me to fix the problem in few minutes over call. I like their policy and plan."

- Sarita, Dana Farber Cancer Institute
"ISO is very cheap and it's an insurance you can rely on. Customer Care Service is extremely helpful. They are quick to reply and attend to all of my needs. I would recommend ISO to everyone."

- Aparajita, LSU
"The ISO is exactly what an international student requires to receive from an insurance."

- Yasaman, Student
Stress-Free Waiving
"Great customer service! My insurance waiver was denied by my school (though they approved it in the past). I sent ISO an email regarding the waiver and they replied within minutes. They immediately contacted my school and solved the problem. The waiver is approved. Friendly and very helpful customer service team!"

- Tran, Student
"My best experience with an insurance company As a senior international student, I have had my share of experiences with mandatory insurance requirements. ISO has been my absolute best experience so far. From being able to choose my own coverage dates, to instant reception of the confirmation letter (believe it or not, other companies had me wait weeks to receive this). On top of that, my institution required another waiver form to be filled out by the insurance company. No problem - ISO had it sorted in a matter of hours rather than days or weeks. I cannot recommend this enough as an international student, I wish I enrolled with them sooner."

- Jamal, FIU
"I was having issues with my college regarding the insurance policy that I had. Thankfully, I was able to change my policy and my college waived their student insurance. ISOA was very helpful throughout this process."

- Beril, ASU
ISO values the community created by our international students, scholars, and visitor members. We provide the most affordable health insurance alternative to school plans and offer support in all aspects of international student life to help you blossom here in the states. We love to hear from our members! Please feel free to rate us/leave a comment on Trustpilot to be featured in any upcoming testimonial round-ups!
About ISO Student Health Insurance
Founded in 1958, ISO prides itself on being the leader in providing international students with affordable insurance plans. Administered by former and current international students, we are able to assist our member with multilingual customer service in Chinese, Hindi, Spanish, and more. ISO serves over 3,200 schools/colleges and more than 150,000 insured students every year.

For more information, please visit www.isoa.org and connect with us on Facebook, Instagram, WeChat, WhatsApp, and LinkedIn.